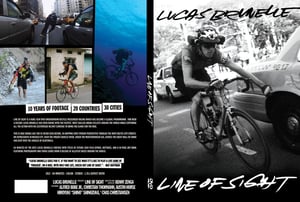 $

25.00
*Free Worldwide Shipping*
*10% of profit is donated to Bicycle Messenger Emergency Fund*
The legendary Lucas Brunelle traveled around the world to document alleycat races all around the world, over last 10 years.
- 60 minutes long
- 40-page artbook
- Lots of behind the scenes and additional footage
"Line of Sight is the inside story of underground bicycle racing around the word. Through the lens of his helmet cameras viewers are transported into the wild and dangerous world of Alleycat racing: where high speeds, traffic, and pedestrians combine with riders hell-bent on victory at any cost. Lucas keeps pace with some of the best urban riders in the world in their natural element, including Shino, Ted Shred, Chas, Jumbo, Kevin Porter, Felipe "The King", Austin Horse, Crihs, and Alfred Bobe Jr.
More than just a montage of vehicle-dodging, fast paced action, Line of Sight also gives the viewers an insight into the community of bicycle messengers who run and participate in these underground races. Director Benny Zenga turns the cameras back on Lucas, his compatriots, and on the incredible cities where they run wild on the streets. The end result? A world tour of the urban jungles of New York to the actual jungles of Guatemala, from the narrow maze of London streets to the Great Wall of China."
http://www.lucasbrunelle.com
Trailer