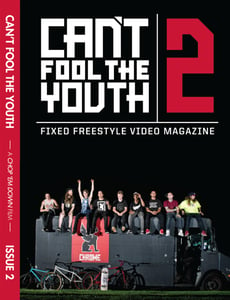 $

30.00
*Free Worldwide Shipping*
*10% of profit is donated to Bicycle Messenger Emergency Fund*
World's first Fixed Gear Freestyle (FGFS) DVD series produced and edited by Zane Meyer. This is the issue 2, including riding from Steven Jensen, Josh Boothby, Grime Crew, Gus Molina, etc.
- About 50 minutes long
- Zine by Gus Molina
- Lots of behind the scenes and additional footage
http://chopemdownfilms.com
Trailer
Can't Fool The Youth Fixed Freestyle Video Magazine Issue 2 Teaser from CHOP EM DOWN on Vimeo.